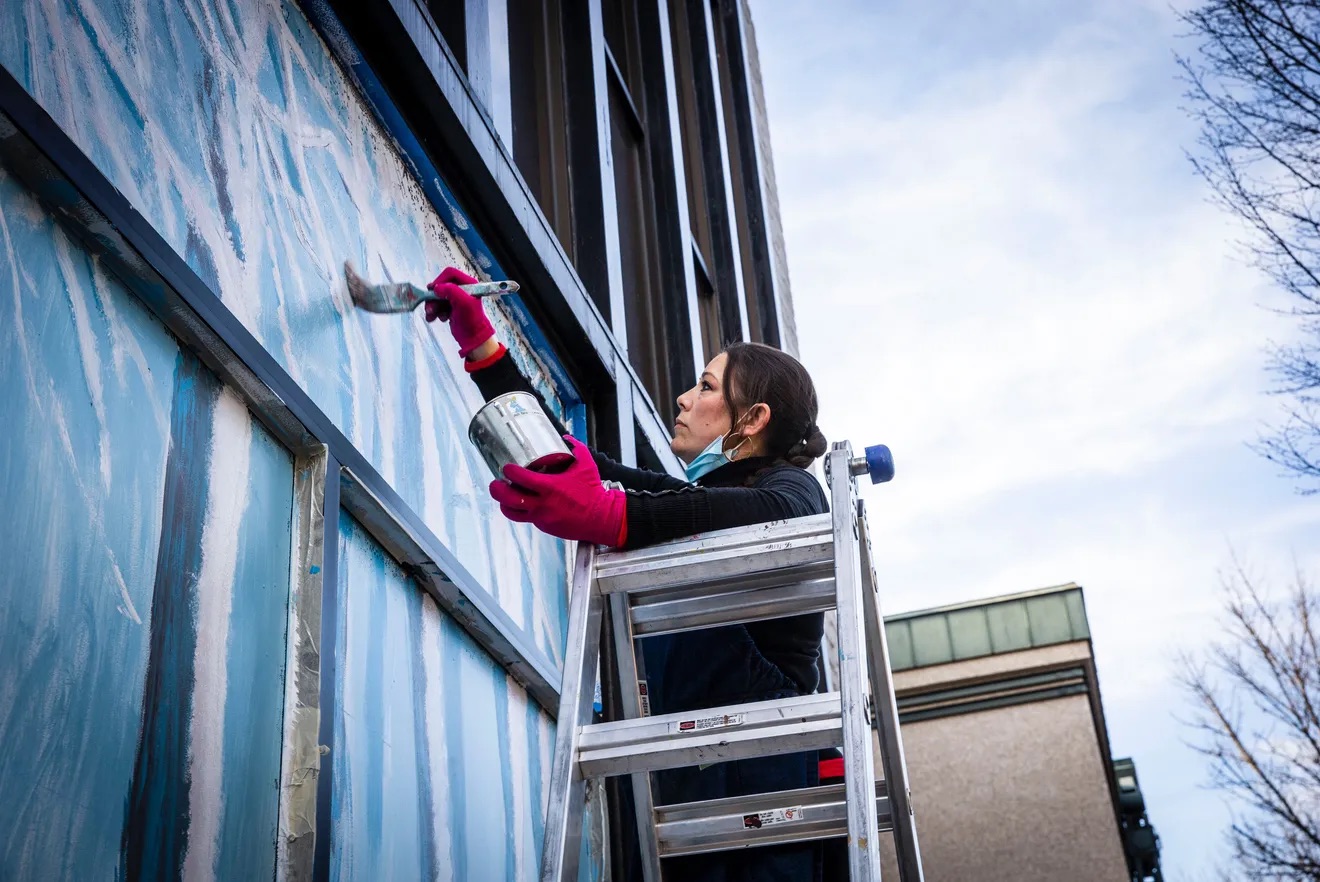 How to Commission a Mural: A Step-by-Step Guide
 Murals are an excellent way to transform your walls, especially if you want to create a bold statement and add character to a space or site. Instantly striking upon the view, it is no wonder that murals are becoming increasingly popular additions to corporate offices, hotels, cafes, residences, and co-working spaces. Whilst visually arresting and vibrant, mural designs can also importantly represent a company's ethos and values, boost creativity as well as improve company culture.
From large-scale murals  to smaller accent details throughout a space, Janene's artistic designs can feature the style and image you are looking for.   If you're interested in learning more about commissioning a mural, below is a step-by-step guide, outlining the six key stages and processes from start to finish.
The Process of Commissioning a Custom Mural
Step 1 | Discovery Stage
Once you contact me with an enquiry, I will begin the process by arranging a meeting with you to discuss your vision, budget, and site for the mural. This initial conversation allows me to gauge a better understanding of your likes and dislikes, and the kind of design, style, or aesthetic you are looking for. These factors are all taken into consideration for the project. This is a free consultation with no obligation to buy.
Step 2 | Estimate
After our initial conversation, a detailed proposal will be prepared and emailed to you within 3 business days.  Careful consideration will be made based on location and travel, size and intricacy of design, equipment needed, and time it will take to complete.
Step 3 | Decision
If you decide to move forward and commission the mural, the next step is to secure the project with a 50% down payment.  The down payment ensures your commitment to us and essentially pays for the design of your mural.  Down payments are non-refundable as it is the work put in to create your design. The remainder of the balance is required upon final completion of the mural.
Step 4 | Mural Sketches & Design
Once your down payment is made, draft sketches of the intended mural design are created and sent to you digitally.  Upon reviewing them, you will send back comments and indicate the revisions (if any) of design elements, content, or color scheme that you would like modified.
Step 5 | Final Design Approval & Execution
After making the appropriate changes, the final design is sent to you.  Once it is approved, I will set a date to commence work on site. Please note I may be booked out 3-6 months ahead.
Step 6 | Completion
Once the mural is completed, a final walk through with you is carried out for any necessary touch-ups or changes that may be required. Once satisfied, a sign-off form is completed and the final payment is due.
Preparation & Deciding on a Site or Surface
I advise clients to prepare wall images and location plans so that I can best assist during the mural consultation. Having an idea of specific theme or style that you have in mind is also helpful for me when we consider your project needs.
Deciding on the location and wall for the mural is important. If you want an outdoor mural, the condition of the chosen wall should be thoroughly evaluated and assessed by a professional. Certain surfaces can also be more durable depending on the wall, while brick, plaster and concrete tend to be the best surfaces, unsealed wood and aluminum are not ideal planes to directly paint a mural on.
Site Preparation
There are a number of things to consider including prep work that will need to be carried out before the mural painting process begins.
Health and safety are of utmost importance, and in order to insure that the site is safe and ready, I provide clients with a checklist outlining the steps they need to take before the mural installation begins.
Things to take into account for site preparation include: allocating an individual to oversee the installation on-site, insuring the site is safe for artwork installation, appropriate areas are cordoned off, storage space is available for artist tools and materials, and finally, that permits or a work pass (if needed) for artist is organized.
Establishing a Budget
Determining your budget is imperative. A large proportion of this will depend on the location and size of your mural.  If the mural is outdoors, bear in mind that the artwork will be exposed to different weather conditions and temperatures, which may require frequent upkeep.
When deciding your budget, it is important to note I charge by the square foot, meaning the larger the wall, the bigger your budget will need to be. Having a rough idea of how much you want spend before making an inquiry is helpful to the design process.
If you are interested in commissioning a mural from me – be it for corporate, hotels, commercial spaces, or residential spaces, please get in touch by filling out our inquiry form.  I look forward to bringing your vision to life!